Handmade Romanian peasant blouses - Enthusiasm





(0)
Handmade Romanian peasant blouses for sale online
.
High quality handmade embroidery since 2000.

FREE SHIPPING to EU! Worldwide shipping!
We gladly accept returns within 14 days of delivery.
The traditional Romanian blouse is a source of inspiration for the international fashion trends.
Originally from Transylvania area this ancient pattern is so elegant and beautiful. 
The traditional Romanian blouses are manually embroidered in a Romanian village. The fabric is cotton.
The embroidery contains  one golden color lame thread. It took more than 3 weeks to complete the elaborated embroidery of one this manually embroidered Romanian blouse.
We are sending worldwide handmade Romanian peasant blouses! Free Shipping to all EU countries!
Payment methods: Card, PayPal or Bank Transfer
Romanian blouse care: Hand wash at max. 30'C. Ironing.
-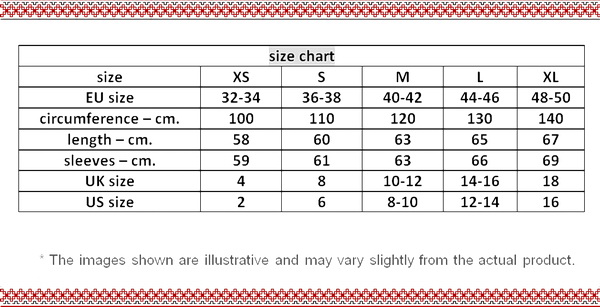 * The images shown are illustrative and may vary slightly from the actual product