Romanian Peasant Blouse Costume Smaranda





(0)
Romanian peasant blouse costume - traditional Romanian ie blouses
.
High quality handmade embroidery since 2000.

FREE SHIPPING to EU! Worldwide shipping!
We gladly accept returns within 14 days of delivery.
Hand embroidered Romanian peasant blouse costume. Fabric of the Romanian blouses is fine gauze cotton.
It took more than three weeks to complete the embroidery of this Romanian blouse .
As all the products are handmade, the production is very limited. We offer unique products or limited edition.
Shipping in the next working day!
Free Shipping to all EU countries!
Worldwide delivery for Romanian peasant blouses and Romanian folk costume since 2000!  
For PayPal payments please select EUR or USD currency before selecting the PayPal button. PayPal do not accept the payments in RON currency.
-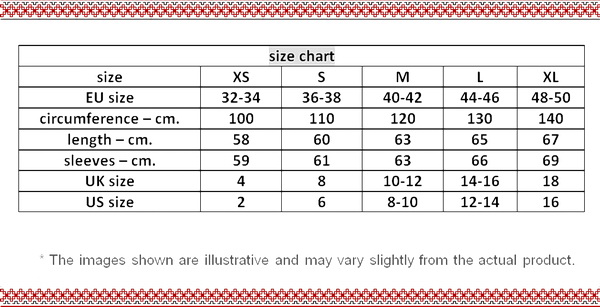 * The images shown are illustrative and may vary slightly from the actual product.