Romanian Traditional Peasant Blouse





(0)
Authentic Romanian embroidered peasant blouses for sale worldwide
.
High quality handmade embroidery since 2000.

Worldwide shipping!
We gladly accept returns within 14 days of delivery.
Experience the unmatched quality of our hand-embroidered Romanian blouses, a testament to the mastery of generations of skilled artisans.
This stunning Romanian traditional blouse is handmade in Moldova area. It is manually embroidered on high quality fine gauze cotton. The embroidery threads are made of cotton moulin and silk.
Since all our blouses are handmade, we have available only the listed measurements for each blouse.
We offer international shipping to other countries for this stunning Romanian blouse, international shipping cost starting from 12 EUR.
For hassle free buying, you can use PayPal or CC at checkout. 
Romanian peasant blouse care: Hand wash at max. 30'C. Ironing.
-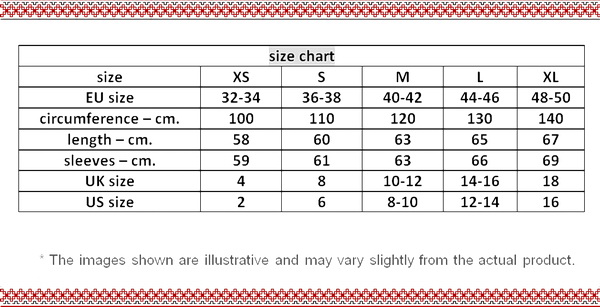 * The images shown are illustrative and may vary slightly from the actual product.