Traditional Romanian peasant blouse ie





(0)
ie romaneasca brodata manual
Buy here traditional Romanian peasant blouse ie - Stunning hand embroidered Romanian blouses
-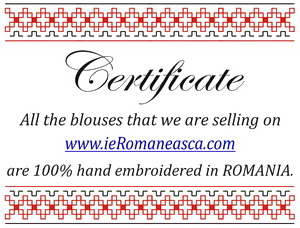 High quality handmade embroidery since 2000.

Worldwide shipping!
We gladly accept returns within 14 days of delivery.
This great embroidered Romanian peasant blouse ie is hand sewed in the countryside of Romania. The embroidery of the ie Romanian blouse is made with cotton and silk thread on a light beige fine gauze cotton. The traditional Romanian peasant blouse is delicate and comfortable and easy to wear.
We do not have available all the sizes for each of our products because all the products are handmade. We offer limited editions and unique products.
Shipping in the next working day!
Worldwide delivery for embroidered Romanian blouses ie and Romanian dress since 2000! 
For PayPal payments please select EUR or USD currency before selecting the PayPal button. PayPal do not accept the payments in RON currency.
Romanian peasant Blouses care: Hand wash at max. 30'C. Ironing.

-