Handmade Romanian Blouses





(0)
ie traditionala cusuta manual
Handmade Romanian blouses - Hand embroidered Romanian Blouse
.
High quality handmade embroidery since 2000.

Worldwide shipping!
We gladly accept returns within 14 days of delivery.
Experience the magic of tradition through the intricate details of our hand-embroidered Romanian blouses.
This Romanian blouse is carefully embroidered in the Romanian villages of Muntenia according with the traditional pattern of the area..
Loose fit with large sleeves. 
Fabric is cotton. It took three weeks to complete the embroidery of this manually embroidered Romanian blouse.
As all our products are handmade, we do not have all the sizes in stock for each product. We offer limited edition and unique products.
Shipping term: Next working day.
Worldwide delivery for traditional Romanian blouses! 
Payment methods: CC, PayPal or wire transfer.
Handmade Romanian blouses care: Hand wash at max. 30'C. Ironing.
-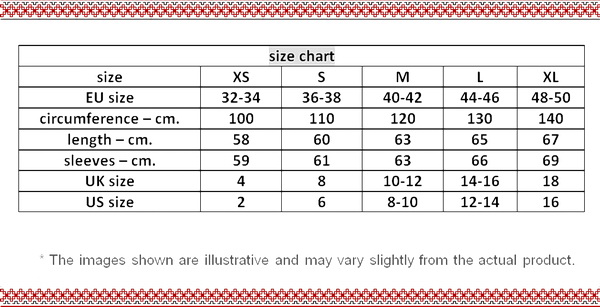 * The images shown are illustrative and may vary slightly from the actual product.